Our Mission
The mission of the Greater West Bloomfield Community Coalition is to build community partnerships to reduce high risk behaviors including alcohol, tobacco and other drug use, to help ensure that our youth may grow to their greatest potential.
---
Research shows that the #1 reason kids don't use alcohol and other drugs is that they don't want to disappoint their parents.
---
Our Sponsors
Check out
our generous sponsors
who make our mission possible!
---
11th Annual Grub Crawl
The West Bloomfield Parks and Recreation Commission will host the 11th annual Grub Crawl on September 19th from 2 to 5 pm followed by an afterglow concert held at Drake Sports Park.
All proceeds from the event will benefit The Greater West Bloomfield Community Coalition along with three other local nonprofit groups:
The Optimist Club of West Bloomfield
The West Bloomfield Rotary Club
West Bloomfield Youth Assistance
The event, presented by Hampton Inn and Kroger, sponsored by The Tutoring Center of West Bloomfield, Sherwood Studios and Orchard Mall will feature tastings at 21 restaurants in the greater West Bloomfield area. A full list of participating restaurants can be viewed online at http://www.westbloomfieldparks.org/grub-crawl.html.
Following the Grub Crawl, participants will head to Drake Sports Park from 5 to 7 pm for a concert and a variety of raffle prizes.
Tickets are $40 per person and can be purchased until September 16th either online at http://www.westbloomfieldparks.org/grub-crawl.html or by calling (248) 451-1900.
When registering for the event, be sure to pick the Coalition as your charity of choice.
Sure to be lots of fun! Please join us!
See the Grub Crawl flyer for more details.
---
Keeping Watch: Heroin in our Community
---
Oakland County Prosecutor Visits Middle Schools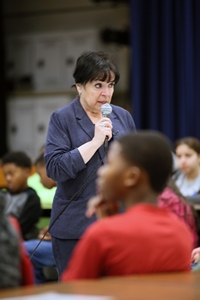 Oakland County Prosecutor Jessica Cooper visited OLMS and Abbott Middle Schools and facilitated a presentation about Internet safety to all of our grade levels.
---
Drive and Ride Sober
Special thanks to A&M Service Center for providing the car!
---